by Jeff Cunningham
NASA has scheduled the first crewed launch of SpaceX's independently designed and developed Dragon spacecraft for 4:32 p.m. EDT (2032 GMT) on May 27, 2020 (barring unforeseen delays, such as a high probability of adverse weather). Astronauts Bob Behnken and Doug Hurley will be the first American astronauts to go into space aboard an American-made ship since the former Space Shuttle program.
The flight, designated Demonstration Mission 2, or Demo-2, will see the two shuttle veterans taking the yet-unnamed ship on her maiden voyage to deliver cargo to the International Space Station. In addition to evaluating the ship's performance in-flight and a routine delivery, it has been confirmed that the duo will fulfill a promise that American astronauts made to themselves, the space program, and the nation that they serve. Years ago, at the end of the final Space Shuttle mission, its crew left behind a flag of the United States, and challenged private industry to build a new ship with which to retrieve it. Over almost a decade, several contenders have entered the race, many fallen by the wayside, and for a while, the outcome wasn't quite so certain, but we now know that the Dragon's crew will finally win the ultimate game of Capture the Flag (you knew that was coming, so I'm not apologizing for it).
It also marks the end of a long journey for us, the crazy dreamers behind Take Back the Sky. Years ago, the possibility of even getting a private unmanned craft into space, let alone becoming a proven and reliable means of delivering cargo and crew, was a long shot. The majority of NASA, legacy aerospace corporations and contractors, and even some of the astronauts themselves scoffed at the idea that ordinary citizens could design and build a new launch vehicle and manned spacecraft, an endeavour as expensive, difficult, and dangerous as it is wonderfully Quixotic — just the sort of cause that Browncoats fall in love with.
We started this little movement with the hope that, by harnessing the passion of sci-fi fandoms, we could bring attention back to space exploration (most people we've spoken to at comic-cons and similar events weren't even aware that the Space Shuttle hasn't flown since 2011) — and who knows, maybe even affect some grassroots change. We've Done the Impossible before. A great man once said, "You've had your moment? Great — now go out and have another." Chris and I had this simple, yet patently insane idea: If the Trekkies were able to get the first Space Shuttle named Enterprise, why couldn't we write letters of our own to get the first private spacecraft named Serenity? After all, they're both private ships manned with private crews.
I won't lie to you: It's come a long way in order for us to finally see this day, something "impossible" has already been accomplished by more skilled people than us, but having this silly little wish of ours come true is still long odds. Why? In the words of Fiddler on the Roof: Tradition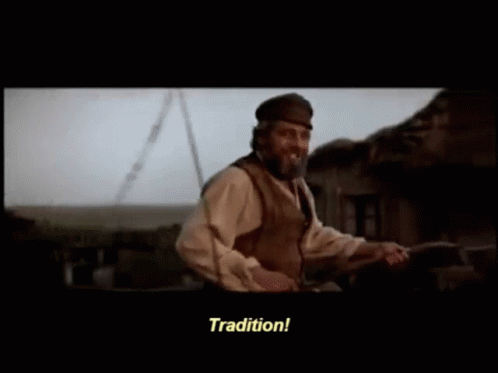 We typically associate spaceflight with innovation and new frontiers, but what most fail to realize is that we've been doing it now for over half a century. Couple that with the fact that the first men in space were test pilots, who are already the second-most superstitious people in the world next to sailors, and you have a recipe for some quirky, but absolutely sacrosanct traditions.
Most of them, as you'd imagine, are for good luck and the hope of a safe return, often by repeating conditions that occurred during the first successful launch of the program. Russian cosmonauts must all watch the same science fiction B-movie before launch, sign a guest book kept on the former desk of first cosmonaut Yuri Gagarin, and the bus that carries them to the launch pad must stop in the same spot that he did so that the crew may get out and urinate in the same spot that he did (on the back right tire of the bus, no less). Their American counterparts are no less unusual: all crews must have the same "last meal" before launch that first astronaut Alan Shepard had, must play cards until the commander is dealt a losing hand, and must stop to bid farewell to the kitchen staff on their way out the door. In addition, since the advent of the shuttle program, it has been customary for each team working in mission control to have the flight director's signature recipe of chili and cornbread served to them.
It is also tradition that it is the crews who name their ships. Tradition has become that they name their craft after famous exploration ships from history (such as the HMS Endeavour, for which a space shuttle was named). The astronauts who will fly the first Boeing-made Starliner craft later this year have announced that they have named their ship Calypso, after Jacques Cousteau's submersible. There are no historical exploration ships to anyone's knowledge, however, that were named "Serenity," and it is highly unlikely that NASA astronauts would break tradition for it…
… highly unlikely, but in fairness, not impossible. To quote a great educator, consider the following:
The crews do name their own ships, but the shuttles were an exception, because they would be used by more than one crew. In more than one case, NASA opened it up to public suggestions, which resulted in both Enterprise and Endeavour (which was suggested by a school classroom). The Dragon is reusable — but then again, so is Starliner.
Bob Behnken, one of the two pilots of the first Dragon crew, is himself a die-hard Browncoat. Another tradition NASA keeps is that friends and family of the crew select music to use as "wake-up calls" to the crew, which resulted in the first and only time that The Ballad of Serenity has been played in space.
SpaceX President Gwynne Shotwell, instrumental in making this mission a reality, is also a huge fan of Firefly and Serenity, and likely wouldn't have anything against it — and it's still possible that a high-ranking SpaceX executive would have some say in naming a ship the company designed, built and largely funded.
Lastly, this is no ordinary launch. Such an historic occasion as this is when new traditions are made. Heck, NASA is even using an old retro logo for the occasion that they haven't used in decades. So, feel free to keep writing letters to NASA and tweeting the astronauts at @Astro_Doug and @AstroBehnken, because stranger things have happened. And if we don't get our wish that the first private, manned spaceship is named Serenity, there's always the next Crew Dragon or even Starship — because it's well documented that SpaceX has plans for its private space fleet that go well beyond the Commercial Crew Program. And that's something we should, after taking take a step back, really think about: we now live in a world where there are more and more diverse kinds of ships made by all kinds of people entering the black, putting us one small step closer to living in the sort of 'verse that the crew of Serenity does, where you can fly wherever you please, dock wherever they'll let you in, take any jobs you dare — where all folk can truly be free.